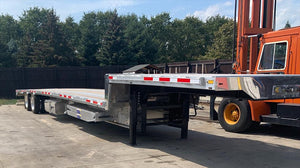 Semi Trailers for Outdoors Gear for Sale in MN
MANKATO, MN -- Find semi trailers for outdoors gear or major wilderness adventures for sale in Minnesota. If you are located or going to be trekking from the Great North of Minnesota, Wisconsin, the Dakotas or Iowa, then consider consulting with experts in the industry. Star Trailer Sales, Inc. in North Mankato has been serving customers in the industry for more than 40 years, spanning three different generations. Call them or browse their inventory online to get started. 
Used Trailers for Sale in MN
It can actually take many months to get a new trailer ordered and delivered. Due to these production constraints, it is also sometimes wise to take a look at used inventory that is already located on the lot. There are a great deal of used semi trailers for sale in MN at the Mankato location. The company also sells trailers in the Twin Cities, Rochester and St. Cloud areas of the state.
They carry livestock, flatbed, drop deck, end dump, grain/hopper and van trailers. To get something used that can be used for carrying outdoor equipment, RVs or vehicles, call for a flatbed or automotive hauling solution. Carrying other types of equipment can be achieved with van trailers for sale on the lot. Check for used inventory online. 
New Trailers for Sale in MN
If you are planning to buy just a single trailer for outdoor adventure, construction or trips, it might not make sense to order a new trailer due to the timeline. However, if you are looking for a small fleet of trailers or if you need a new trailer for outdoor construction projects, cabin building or something similar, you can call the expert professionals at Star Trailer, who know the semi trailer business inside and out. You can find suitable fletbed trailers to carry large outdoor equipment for projects such as backhoes, payloaders and other construction equipment. 
Brands Carried by Star Trailer Sales, Inc.
The company has many manufacturing partners. These different brand names are industry giants and are known internationally. They include MAC, EBY, Arne's, Felling, Cornhusker 800, Stoughton, Transcraft, Benson International, Prestige, Jet Co. and Barrett. See their website for more information, including parts and service support for semi trailers. 
---